To preserve the memory of the great prophets of the modern age—Sri Ramakrishna, Sri Sarada Devi, Swami Vivekananda — along with their monastic and lay disciples and cherish the great contributions they made; as well as to place before the public the ideals of the Ramakrishna Movement, the Ramakrishna Museum was opened on 13th May 1994 in an old building at Belur Math.
The Museum building was opened by Swami Ranganathanandaji Maharaj
However, it was soon felt that in order to display more exhibits in a systematic way and in a congenial environment, a new building would be necessary. Thus the foundation stone for the new museum and archives was laid on 4th February 1996 by Swami Bhuteshanandaji Maharaj, the 12th President of the Ramakrishna order, and the building was formally opened on 7th May 2001 by Swami Ranganathanandaji  Maharaj, the next President.
Before one enters the museum, on the left side, one gets a glimpse of old Kolkata of Ramakrishna's time and on the right, a glimpse of rural Bengal, where Sri Ramakrishna was born and brought up.
Outside the Museum – Old Kolkata view
Then, as one walks around the outer periphery of the museum building one gets a cursory view of India's cultural history from the Vedic period to the advent of Sri Ramakrishna (16 murals on the wall).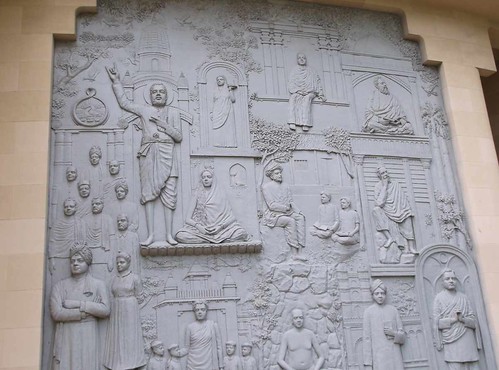 Mural showing Holy Trio and other religious leaders
Museum in the form of Lotus in full bloom
The concept of the Ramakrishna Museum building is like a lotus in full bloom, as it were.  Its first floor forms, as though, the upper layer of petals of the lotus.  The ground floor forms the lower layer of petals of the lotus. Inside the museum different exhibits are presented which survey the lives and work of the great souls who inspired the Ramakrishna Movement.  The story culminates in the last alcove, which depicts how the ideas and ideals of Sri Ramakrishna were translated into action up to 1910.  Finally, a video presentation in the next room gives the visitor an idea of how the Ramakrishna Movement is taking root in different countries today.
The Ramakrishna Museum is unique in its kind.  The original Greek term is museion, which means a philosophical institution, or a place of contemplation. True to its original meaning, this museum is not just sightseeing, but also a place vibrant with spirituality. This museum is in proud possession of various articles used by the founders of the Ramakrishna Movement as well as some related original manuscripts.
We believe that by going around the museum, visitors will not only be able to feel the living presence of these great souls but also grasp the dynamic spirit that pervades all the activities of the Ramakrishna Movement.